News
NCN Exclusive: Ricketts mum on national future but 'would not' challenge Fischer in 2024
Gov. Pete Ricketts is pushing aside back-room GOP talk that he might challenge Deb Fischer for her US Senate seat in 2024, but he's not saying what he will be doing.
Saturday, May 14th 2022, 9:10 AM CDT
Jim Pillen wasn't the only winner last Tuesday.
His biggest backer, Gov. Pete Ricketts, avoided what would have been a politically embarrassing loss just as Ricketts gets set to leave the state's top job at the end of the year.
In an exclusive on-camera interview with News Channel Nebraska, Ricketts refused to disclose any future national plans.
NCN's Joe Jordan: Do you think there's any chance you'll run for President in 2024?
Gov. Ricketts: I'm going to focus on being governor for the next eight-and-a-half months, then I'm going on vacation with my wife, and I'll worry about everything else after that.
NCN's Joe Jordan: But you're a planner. You plan billion-dollar budgets, you plan how to get legislation through. You must have some idea what you're doing the day you walk out of the governor's office.
Gov. Ricketts: Well, I would like to stay involved in policy or politics, but I've got to focus on being governor for the next eight-and-a-half months. It's not the kind of job you can lose your focus on and that's what I'm going to do.
[View our interview with Gov. Ricketts above]
Steve Bannon—who in 2017 was the chief strategist to former President Donald Trump—recently said, "Pete Ricketts clearly has national ambitions," ambitions arguably clouded by Trump's recent attack on Ricketts.
By backing Pillen while Trump supported Charles Herbster, Ricketts and Trump were on opposite sides and following Herbster's loss Trump called Ricketts a RINO—a Republican in Name Only and a top-drawer insult to a conservative like Ricketts.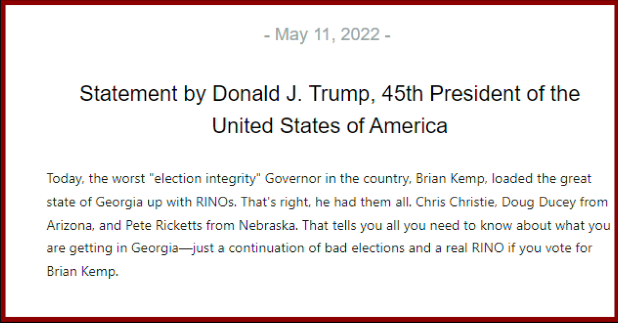 NCN has asked Ricketts to comment on the name-calling but so far, we've heard nothing back.
But during our interview with Ricketts—recorded before the Trump "RINO" comment—while Ricketts wouldn't say what's next (again, running for President?) he did make it clear what he won't be doing and that involves two-term US Senator Deb Fischer. While Fischer has already announced plans to run for a third term in 2024 there's been behind the scenes GOP talk that Ricketts is eyeing Fischer's job.
NCN's Joe Jordan: Is there any chance you would challenge Sen. Fischer for the Senate race in a couple of years?
Gov. Ricketts: I would not challenge Sen. Fischer for the Senate race in two years.