News
GOP 'genuinely invite' Kerrey and McDonnell to switch parties
The invite follows the latest uproar in the Democratic Party first reported by News Channel Nebraska.
Saturday, February 25th 2023, 2:28 PM CST
The Nebraska Republican Party is wasting no time trying to lure two of the state's top Democrats into its ranks, following the latest Democratic Party slap-in-the-face, first reported by News Channel Nebraska.
Last week, as State Sen. Mike McDonnell, a South Omaha Democrat, looks to finalize a run for mayor in two years, the Douglas County Democratic Party, turned its back on McDonnell, refusing to let him join their Central Committee by a "lopsided" vote, according to County Chair C.J. King.
Now the head of the state GOP is putting out the welcome mat for McDonnell and former Senator and Governor Bob Kerrey, inviting them to "genuinely" join the GOP.
"We welcome new members to the NEGOP that have had enough of extreme Democrat polices," says Chairman Eric Underwood.
McDonnell, the head of the area's labor movement is the lone Democrat in the Legislature backing three hot-button bills—the Nebraska Heartbeat Act, which would in effect ban abortion after six weeks, and two bills targeting individuals who identify as transgender.  
The Central Committee, upset with McDonnell's plans, overwhelmingly refused to allow him to join their ranks.
Despite the shellacking, McDonnell has told NCN he's sticking with the Democrats and his pro-life views on abortion aren't changing.
State Sen. Mike McDonnell, Omaha (D): "I'm sticking to my vote on the Heartbeat legislation."
Joe Jordan, NCN: "Do you have any plans of changing parties?
McDonnell: "No. And if the Central Committee wants to invite me to attend in the future I will."
Joe Jordan, NCN: "Does that action by the Central Committee indicate that Democrats in Omaha are not thinking kindly of Mike McDonnell as he possibly runs for mayor?"
C.J. King, Chairman, Douglas County Democratic Party: "I don't speak for all Democrats in Omaha. If Mike McDonnell runs as a Democrat, I did talk to Mike he doesn't have any plans of switching parties, I don't intend to treat him any different than any other Democrat."
As for Kerrey, GOP Chairman Underwood notes that after Kerrey suggested Nebraska Democrats moderate their tone and platform he was, "Cast aside. His name is no longer on their annual fundraiser."
But Kerrey tells NCN he's not switching parties. "I couldn't join a party that is unwilling to say the election wasn't stolen. Joe Biden is President." According to Kerrey, the GOP doesn't know how far it's moved. "They're not mainstream," he says.
All this party switching talk intensified a few years ago after Douglas County Attorney Don Kleine, a lifelong Democrat, joined the GOP.
Kleine's move followed NCN's exclusive report that the Nebraska Democratic Party had all but condemned Kleine for his handling of a racially charged shooting in Omaha's Old Market. Kleine had refused to charge a White bar owner in the shooting death of a Black Lives Matter protestor.
Jane Kleeb, head of the Nebraska Democratic Party, tells NCN, "Chair Underwood's memory must be short since Senator Al Davis and legislative candidateJanet Palmtag both left the GOP for the Nebraska Democratic Party. We could certainly list other community members as well that have left the Republican Party because of their extreme and Trumpian behavior. Instead, we are spending our time on the Lincoln City elections. Sen. McDonnell is a Democrat. This letter is a silly ploy coming from the Republican Party. But at this point we do not expect anything more from the clown circus which is the GOP these days."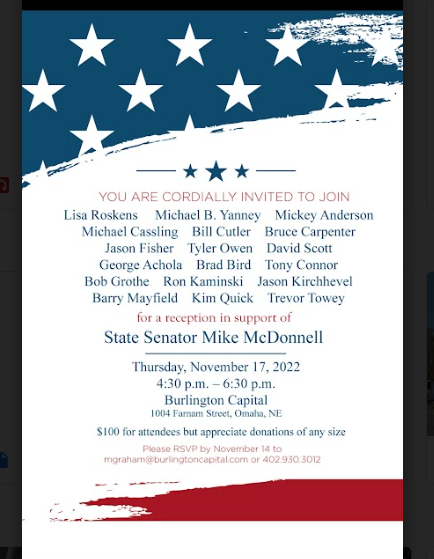 In the meantime, McDonnell says he's not made a final decision about running for mayor but as NCN first reported, although he's term limited and can't run for the Legislature in two years, he held a fundraiser in November headlined by among others philanthropist Mike Yanney and Tony Conner, head of the Omaha Police Union.
According to McDonnell's latest state campaign report, he ended 2022 with $263,000 cash on hand, with hefty contributions from the Kiewit Corporation and the International Firefighters Union; Kiewit kicking in $16,000, the International Firefighters $10,000.
Stay with News Channel Nebraska for continual original reporting .