News
Stothert to NCN: Endorsement in GOP governor's race a 'possibility' next week
Mayor Stothert's brief but attention grabbing comment follows politically fascinating and much under-reported insider talk from former Gov. Dave Heineman.
Friday, April 1st 2022, 10:44 PM CDT
Omaha Mayor Jean Stothert tells News Channel Nebraska that an endorsement from her in the GOP race for governor is a "possibility" next week.
Stothert's brief but attention grabbing comment follows politically fascinating and much under-reported insider talk from former Republican Gov. Dave Heineman.
Stothert's comment came Friday, just after her annual State of the City Address during a City Hall meeting with reporters.
NCN's Joe Jordan: "Mayor, the Republican Primary is five or six weeks away. Who are you going to vote for governor?
Mayor Stothert: You know what? I'm not going to talk about that here in my office today. We'll talk about it next week.
NCN's Joe Jordan: Will you be making an endorsement?
Mayor Stothert: That's a possibility, Joe.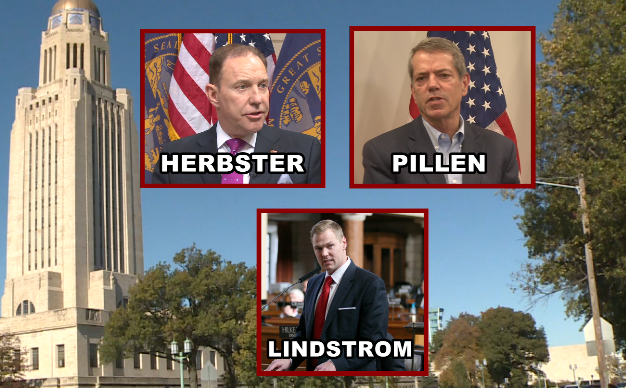 Although there are half a dozen GOP candidates in the race, the fight has turned into a three-way battle between cattle-king Charles Herbster who has been endorsed by former President Donald Trump, State Sen. Brett Lindstrom of Omaha and NU Regent Jim Pillen, who is backed by Gov. Pete Ricketts.
While clearly acknowledging no first-hand information, several GOP insiders tell News Channel Nebraska they can envision a Stothert endorsement—but again no guarantees—heading Lindstrom's way.
On Wednesday, Heineman, who has close political ties to Stothert and has not endorsed anyone in the governor's race, told KFAB radio that while he believes Herbster leads by half a dozen points he sees "momentum"—a key political x-factor—on Lindstrom's side.
On Friday, Heineman told News Channel Nebraska he's not throwing his support to anyone next week. When asked if he will endorse before the primary Heineman said, "I'm not planning to."
But during that mid-week radio interview Heineman—the state's longest serving governor, who is widely recognized for his nuts-and-bolts political insight—ticked off his Herbster, Lindstrom, Pillen analysis.
An analysis that finds Herbster on top but Lindstrom surging.
Gov. Heineman: "Pillen, he was the early frontrunner. What's happened though, he's made several missteps. One, at an early forum he said, 'Well roads aren't that bad in Nebraska,' that kind of got a little backlash (Pillen's statement was first examined closely by News Channel Nebraska). Secondly, he ran this shotgun ad that I think was one of the most ineffective ads I've ever seen. People were just turned off by that. But the third mistake I think he made, the biggest mistake, is he said he won't debate. So, I think Jim Pillen's gone from frontrunner to third place."
Heineman then turned his attention to Herbster.
Heineman: "Charles Herbster, his strategy's been real simple: 'I'm going after President Trump's endorsement because his is the most powerful, meaningful, and significant endorsement in the Republican Primary.' He got that endorsement, and he is now the leader, I'll say by six or seven points."
And then he moved to Lindstrom and a campaign that Heineman says is gaining speed.
Heineman: "Lindstrom's strategy is a very simple one. He is running a positive campaign and he thought there was a good chance that Herbster and Pillen would go after each other…and he'd be able to come up the middle and win the race. Well, right now he's got momentum and I believe he's in second place."