News
Councilman Palermo's estranged wife wants the house and business
City official's federal indictment part of Mrs. Palermo's latest divorce court filing.
Thursday, April 27th 2023, 10:22 PM CDT
As indicted Omaha City Councilman Vinny Palermo sits in jail, waiting to see if a judge will let him out, the federal criminal case against him is upping the ante in his ongoing divorce.
According to court records examined by News Channel Nebraska, Palermo's wife Aubrey—arguing that the allegations in the indictment "suggest that circumstances have changed"—wants key updates to their temporary divorce decree issued April 6 by Douglas County District Court Judge J. Russell Derr.
Mrs. Palermo now asking the judge for several amendments including: 
"Exclusive use of the home," a $530,000 house on south 13th street. Earlier the judge ruled that Mrs. Palermo "shall have exclusive use of the 'upstairs' and Master Bedroom" while the 2-term Democratic Councilman "shall have exclusive use of the 'basement' including the basement bedroom and basement kitchen." The judge adding, "the laundry room of the basement may be used by either party."
Mrs. Palermo wants "the ability to manage the business she owns" apparently referring to Vinny's Tree Service.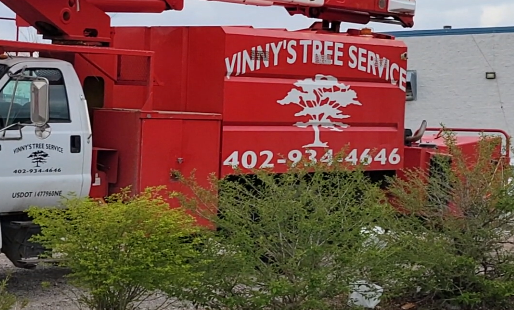 The tree trimming company has been one of the most contentious items between the two and is part of the federal charges against Palermo.
According to the indictment, Councilman Palermo ran a "scheme" using the company to get his hands on a $68,750 federal, COVID related, Paycheck Protection Program loan, which he did not have to pay back. The government says because Palermo was on federal probation for tax crimes in 2019, he was "disqualified from receiving PPP loan money." During hearings in Lincoln Federal Court this week prosecutors said Palermo had his wife sign the loan, as if she was the owner.
Before the indictment was revealed, Mrs. Palermo—who said the company had over "$1 million in revenue in tax year 2021"—asked Judge Derr to appoint a "receiver" to go through the company's books and "perform other essential business functions. In addition, she maintained she is an "85% owner" of the firm while the councilman "owns the other 15%" and has been involved with "unlawful" business moves.
Despite her request—and again before the indictment was made public—Judge Derr ordered that Mr. Palermo be in charge of VTS and that Mrs. Palermo "shall not interfere with the operations of the company."
The Councilman's lawyer, Randy Paragas, tells NCN, Mrs. Palermo is "talking out of both sides of her mouth." According to Paragas, Mrs. Palermo "falsely claimed" on the PPP loan application that she owns 85 percent of VTS.
It appears a hearing on Mrs. Palermo's requests will be held next week, though it may be complicated by Councilman Palermo's possible incarceration; Federal Judge Cheryl Zwart has said she will rule on Palermo's get-out-of-jail request Friday.