News
Fischer breaks silence: Guns not the problem
According to Fischer, the answer to gun violence is hardening schools and progress on mental health.
Still no word from Senator Ben Sasse.
Thursday, June 2nd 2022, 10:55 PM CDT
After several days of silence Nebraska's senior Senator, Republican Deb Fischer, has finally entered the debate on guns and is showing no signs of putting limits on weapons.
"I think we need to invest more in mental health," Fischer tells NTV. "When I talk to law enforcement, when I talk to families, that's their big concern is mental health, and we have to look at hardening schools. Nebraska has done a good job at that. When I hear about other states I'm shocked by it."
At the same time KETV is reporting that Fischer avoided their gun questions on Thursday.
Earlier in the week NCN reported that both Fischer and fellow Republican Senator Ben Sasse were unwilling to talk to NCN and others; Sasse still is.
Here's our Tuesday report.
(May 31, 2022):
Not even a long-reported and repeated Fox News poll, which finds overwhelming support for more gun control, is enough to bring comments on the clearly touchy topic from Nebraska's two Republican US Senators.  
In the aftermath of the Buffalo and Texas massacres that left 31 shot and killed, 10 at a Buffalo supermarket and 21 in a Texas classroom—two teachers and 19 young children—Senators Deb Fischer and Ben Sasse have had almost nothing to say on possible gun restrictions. 
News Channel Nebraska has asked both if they would support two House-passed measures strengthening background checks for gun buyers: A bill expanding criminal background checks to would-be purchasers on the internet and at gun shows and legislation giving the FBI more time to investigate gun buyers flagged by an instant background check system. 
Neither Fischer or Sasse has responded to our question. 
PBS and the New York Times have also asked and heard nothing. The Times noting in its reporting that both Fischer and Sasse have "A" ratings from the NRA which has shelled out $19,638 in campaign cash to Fischer and $68,623 to Sasse. 
The conservative Liberty Nation News reports that Sasse is in the category of Senators, "Who haven't declared firmly one way or the other," adding that Fischer says she's still looking into the issue and welcomes discussion.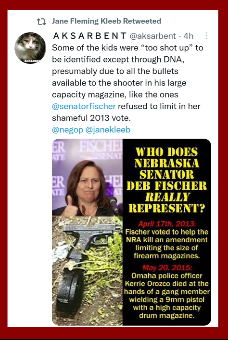 The head of the Nebraska Democratic Party, Jane Kleeb, recently retweeted an anti-Fischer post which noted that "Some of the kids (in Texas) were 'too shot up' to be identified except through DNA, presumably due to the bullets available to the shooter in his large capacity magazine, like the ones @senatorfischer refused to limit in her shameful 2013 vote." 
That Fox News poll, from August, 2019 found 90 percent favoring background checks on all gun buyers, 7 percent opposed. 
Asked if assault rifles—the AR-15 style weapon used in both Buffalo and Texas—should be banned 67 percent said yes, 27 percent no. 
Not part of that poll a question recently put to the Senators' fellow Nebraska Republican, Gov. Pete Ricketts, regarding the legal age to buy those assault-style firearms. 
In Nebraska you must be 21 to buy a handgun, but 18-years-old to purchase "long-guns" which includes those AR-15 style weapons. 
And although authorities tell us that both the Buffalo and Texas shooters, both 18, and both having legally purchased the type of rifle President Biden calls a "weapon of war," as we reported extensively last week Ricketts sees no need to change Nebraska law. 
"I think the focus ought to be on trying to be preventive rather than to restrict legal buying from people," Ricketts told CNN the day after the Buffalo massacre.  
On Sunday, Illinois Congressman Adam Kinzinger, a Republican anti-Trumper and veteran of the wars in Iraq and Afghanistan, told ABC news raising the age limit to 21 for the purchase of rifles is a "no brainer." 
As for those two House-passed gun control measures (The Enhanced Background Checks Act of 2021 and the Bipartisan Background Checks Act of 2021) it's unclear if or when the Senate will vote on them. 
According to The Hill, despite widespread calls for major gun restrictions following mass killing after mass killing, it's been "more than a decade" since Congress approved any such legislation. 
It was nearly a decade ago—March, 2013—when then-Omaha Mayor Jim Suttle, who was running for re-election, stunned many political observers firing off TV ad after TV ad demanding change. 
"It's been 94 days since Newtown. 241 days since Aurora. 1,930 days since the mass shootings at the Westroads Mall. And Washington still hasn't banned assault weapons. As Mayor I'm tired of waiting for Washington. I'm the only candidate who would ban assault weapons in Omaha and limit high-capacity magazines. It's 15 days to election day, send a message that this can never happen again."
Suttle, who narrowly—51-49—survived a 2011 recall which had nothing to do with guns lost in 2013 overwhelmingly, 57-43.