News
Top Omaha city official's legal fights grow as wife ups accusations
Councilman Vinny Palermo in middle of high-profile divorce, FBI raid, and ongoing federal probation.
Saturday, April 1st 2023, 10:45 AM CDT
Omaha City Council Vice-President Vinny Palermo's jump into divorce court is tied to an "FBI raid" on his home and an escalating make-or-break fight over the family's seven-figure tree trimming business.
All that and more according to Palermo's wife, Aubrey, in the latest detailed court records that also find Mrs. Palermo accusing her husband of shutting her out of "Vinny's Tree Service" and starting a new company without her.
As News Channel Nebraska first reported, Aubrey Palermo, filed for divorce on March 20.
The very next day the Democratic councilman, who was elected in 2017 and reelected in 2021, answered her lawsuit agreeing with her that the marriage is "irretrievably broken."
Mr. Palermo also said his wife "recently withdrew funds in excess of $16,000" from the company's operating account and wanted the court to restrain her from "engaging in any activity detrimental" to the day-to-day operations, which include tree trimming, removal, and stump grinding, according to the company's Facebook page.
In her latest complaint, Mrs. Palermo—who says the company had over "$1 million in revenue in tax year 2021"—asks the court to appoint a "receiver" to go through the company's books and "perform other essential business functions."
In addition, she maintains she is an "85% owner" of the firm while the councilman "owns the other 15%" and has been involved with "unlawful" business moves.
In his quickly filed response Palermo did not address any specific allegations but asked the court to dismiss his wife's request because it was "improperly filed."
As we've reported earlier, in late December, an FBI raid on Palermo's $530,000 home on south 13th street was all part of a federal investigation that involves PACE, a non-profit aimed at keeping inner city kids in athletics and out of trouble.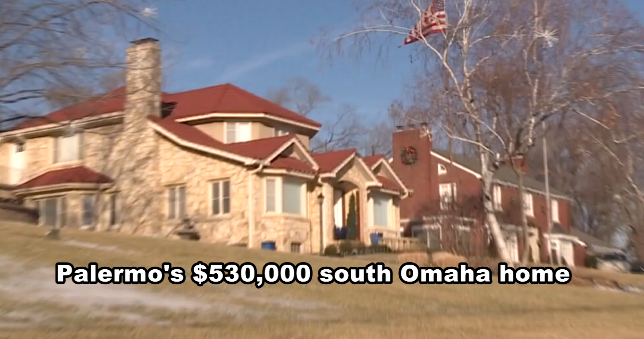 Following the raid, Police Chief Todd Schmaderer released a statement noting he's, "Concerned that PACE may have been used for criminal activity."
Mayor Jean Stothert said, "Regarding Councilmember Palermo…we hold our public officials to a high standard."
As NCN first reported the investigation has found the city suspending over $340,000 in funding to PACE while the probe rolls on.
As for Mrs. Palermo's latest accusations involving Vinny's Tree Service she also says:
"The business bank account was closed at First National per the bank's request. Defendant, and perhaps others, opened up a new account at a new bank with a new business name."
She has, "Distributed approximately $173,000 out of her premarital retirement funds" (the couple married Dec. 31, 2017) to pay for her husband's "back taxes, fines and other penalties and other debts and expenses to support" him.
In late 2019, Palermo was sentenced to four years federal probation, for failing to file federal income tax returns in 2012, '13, and '14.
News Channel Nebraska has made repeated attempts to talk directly with Palermo but he has refused to comment.
In her initial divorce filing, Mrs. Palermo asked the court to restrain her husband from, "harassing, annoying, threatening, or disturbing" her peace and their young child's peace.
In his response, Palermo denied any such suggestion of inappropriate behavior.