News
Heineman to Sasse: Resign now
Sasse says he plans on leaving the Senate in early January
Wednesday, November 9th 2022, 4:14 PM CST
At least one key Nebraska Republican isn't buying Ben Sasse's plan to resign from the Senate right after the first of the year.
Today, the University of Florida gave final approval to a plan naming Sasse as its next president.
But earlier this week, lost in the fog of Election Day, former Gov. Dave Heineman said Sasse should resign now, not later.
It's not clear if Sasse—who tweeted today that he is "thrilled to join Gator Nation in February" and will resign his government job the "first week of January"—is aware of Heineman's pointed comments.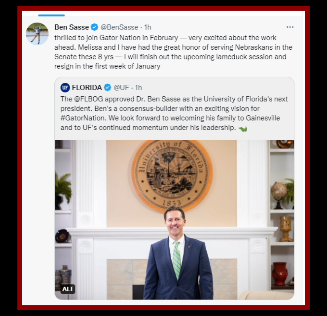 [View Joe Jordan's report and hear Heineman's comments above]
As Republican Ben Sasse prepares to take the reins at the University of Florida, fellow Republican, and former Gov. Dave Heineman has one-word of advice for the state's junior Senator: resign.
During a Monday under-the-radar interview with KFAB radio, Heineman, the longest serving Nebraska governor—he had the job 10 years—was not mincing words. 
Heineman: "I think Ben Sasse should resign because we should put Nebraska's interest first over anybody's personal interest. He should resign, we should appoint a new United States Senator for Nebraska who would have seniority over every other new Senator who gets elected."
According to Heineman there are only four logical choices for the job: Congressmen Adrian Smith, Don Bacon, and Mike Flood along with Governor Pete Ricketts, who many believe gets the job if the wants it.
Heineman: "It's going to happen on Gov. Ricketts' watch. He could make the appointment, or if doesn't want to make the appointment he could step aside and say, "I'm interested," and leave the decision to Lt. Gov. Foley. I know Mike Foley; I don't agree with him on every issue. I can tell you this about Mike Foley, he is a man of integrity, a person of principle and he would choose the person who would best represent Nebraska."
But there's a risk in all that for Ricketts if Foley doesn't think Ricketts is that best fit for Nebraska.