News
Abortion, transgender bill passes; Pillen expected to sign soon
Opponents are promising several legal challenges
Friday, May 19th 2023, 3:33 PM CDT
Without a vote to spare two highly controversial issues, a new 12-week abortion ban, and moves limiting transgender health care for those under 19, crossed the finish line today.
Both measures wrapped in a single stormy bill are now heading to Gov. Jim Pillen who has promised to sign the plan into law, likely without delay.
[View our full video report above including comments from State Senators Michaela Cavanaugh and Steve Erdman]
Only hours before the final votes were cast, state officials issued an open letter noting that public protests would not be allowed to go too far, that while "honoring our strong tradition of open government" …security would "clear the balconies if disruptions persist."
An hour into the debate some in the balconies started shouting, leading officials to order the balconies emptied and closed.
In the end, as expected, there are major changes to state law.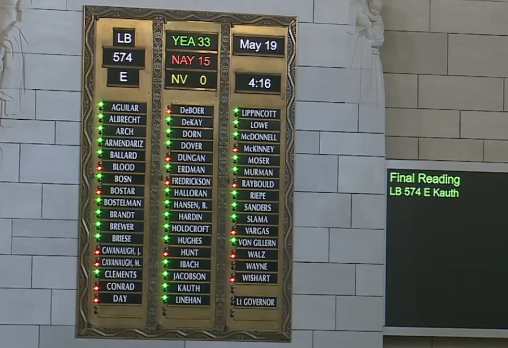 On abortion: An earlier hard-fought six-week ban has been replaced by 12 weeks, though critics argue it's really ten weeks. The current ban is 20 weeks.
On transgender health care: A move outlawing sex-altering surgeries for those under 19, and only allowing drug treatment for minors if approved by the state's chief medical officer.
All 32 Republicans voted for the measure along with one Democrat, Mike McDonnell of Omaha who is a likely candidate for mayor in 2025.
The bill now heads for the governor, who has promised to sign it. Once he does the new measures will take effect the very next day.
Opponents are already promising a variety of legal moves attempting to delay if not stop the bill completely.